I was innocently careening through my blogstrocity this morning and noticed that the ads were not their normal bland selves. I kid you not, below you'll see an actual screen capture of the ads.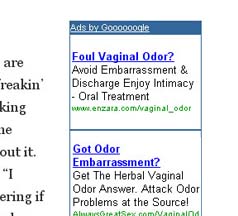 The rest of the ad column was equally robust. I refreshed and the ads went back to their normal selves. (Further refreshing brought an interesting mix of Papal momentoes and feminine hygiene remedies).
Which leads to the question, which one of y'all brought the smelly ads?