Ok, loyal readers, I lied.
I didn't really boycott the media, I actually went on vacation with the fambly.
(Though those media bastards better pay attention to my campaign soon or I'll do something drastic like cancel my subscription to People!)
It was a very nice week of vacation. The Teen explained that she liked it because we spent much of it just "chillaxing", which in kid-speak means lying around doing very little. How this exactly differs from her routine at home I'm not sure, but that's fodder for some other blog and probably years of therapy.
Anyhoo, being in the midst of a heated campaign for King of the World, I used the vacation to get some serious work done. First, I started lining up celebrities for endorsements.
I started with Dave Matthews of the Dave Matthews Band.
The Idiot Fambly was treated to the DMB concert in Mansfield, Massachusetts on July 10 by some very nice friends of ours who also were able to get us backstage to meet the band.
I intended to get Mr. Matthews on board with my campaign, but again found myself rendered dumb in the face of celebrity and instead babbled and gurgled and cooed, which was ok because Mr. Matthews was won over by Mrs. Village Idiot, who impressed him with her abilities at sculpting things from Play-doh. (No, she doesn't carry it with her, she and our children were chillaxing on the lawn in the backstage area playing Play-doh with some of the little kids that belong to the band and the crew when Dave walked up).
Despite my idiocy, I think he'll be on board when the campaign kicks into high gear. Who can resist a woman with Play-doh?
The view from the wings
For DMB fans, it was a great show:
I'll Back You Up [tease]
So Much To Say
One Sweet World
Dancing Nancies
Warehouse
Dream Girl
Hello Again
Out Of My Hands
Grey Street
Hunger For The Great Light
Smooth Rider
Crash
Bartender
Stir It Up [tease]
Louisiana Bayou
Too Much
__________________
Stolen Away On 55th & 3rd
All Along The Watchtower
From there, the Idiot fambly went to Newport, R.I. for some serious chillaxing. We toured the area, including the many Gilded Age Mansions built by the super-rich to be used as summer cottages. The most impressive of these was The Breakers, built by Vanderbilts in the 1890s. It has 70 rooms, over 130,000 square feet of house, and was used for only two months a year or so. Yes, this will be a nice palace for me when I'm king.
the Breakers, THEIR SUMMER COTTAGE!
Finally, last evening, one of my many fantastic relatives, who also happens to be a genuine big-shot, took pity on me and took me to the Red Sox-Yankees game. His seats are directly behind the visitors dug-out where we could "put our beers right on top of the Yankee dug-out" as he explained on the drive down. The seats were so good I was afraid that after too many beers I'd think that chaining myself to them would be a good idea, but fortunately we made it home without any ugly Idiot incidents. Since I would never use Yankees for campaign endorsements, and the only celebrity I saw was my new love, Kelly the Ball-Girl, I got to take the night off from campaigning and chillax in those awesome seats. It was disappointing that the Sox lost, and equally disappointing that yelling "yo yo ma" at Hideki Matsui didn't even get him to look up. (Gary Sheffield DID look up, and I'm still a little frightened).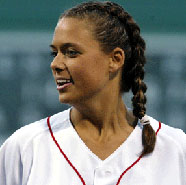 Kelly the ball girl, my new love
So now I'm back and ready to roll. I send a sincere thank you out to those of you who know who you are.