Last week we bought a kayak.
As I'm an idiot and have no previous kayaking experience, Mrs. Village Idiot called our life insurance guy, doubled my coverage, and sent me out to the river with her blessing.
Then, for my maiden voyage, she followed with the camera.
"Just to heckle," she said.
"Cool," thought I, "action pictures of the Village Idiot tackling the massive rapids."
Here's the results: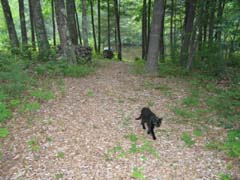 Our cat wanders the woods. She captured his entire journey on film, so there are perhaps ten more of him. Some further, some closer. Note that the shot does not include an idiot flailing about in a kayak. The other shots of our cat's meanderings are similarly sans flailing idiot.
My Favorite Series from that day:
Mrs. Village Idiot's feet. Note, again, the crucial kayaking element seems to be missing. Apparently, she's witnessed my bumbling idiocy enough over the years so that my desperate efforts to flog the river into submission with a purple kayak paddle just to the left of her feet didn't warrant any camera time.
Maybe, if I can get my hands on a cool craft like a space shuttle or a Diet Coke truck, she'll let me into the picture.