Last year, Paris Hilton made those little dogs fashionable.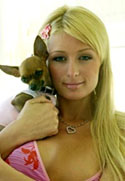 You remember, she was toting her chihuahua* around and pretty soon everyone had to have a little dog too. The always fashionable Village Idiot lugged our bassett hound around for a few days, and would probably still be doing so if it weren't for the herniated disc combined with the plethora of unpleasant smells that bassetts produce.
So, last week I was bringing in Mrs. Village Idiot's mail and read the cover of her People magazine. It appears that Angelina and Brad are going to adopt a small batch of African orphans. "Holy Crap!" thought I, "they've discovered next year's chihuahua!" Soon I expect that all of Hollywood's A-list will be jetting off to Africa and adopting babies to haul around on their arms. If I had a little venture capital, I might set up a center where they could rent babies from me for big events, but I'm still trying to rebuild my finances after investing so heavily in my last eerily similar can't-miss scheme, "Rent a Spice Girl."
Mark my words, people. Everyone from Britney to Cameron to Demi will soon be spotted toting babies instead of Chihuahuas.
Trendy Paris Hilton in 2006?
*"Toting Her Chihuahua" is a punk rock band just waiting to happen, don'tcha think?