Last weekend I went to the fifth bar in my quest to reach 100. This one was The Broken Putter in East Bufu, Maine. A good time was had by all.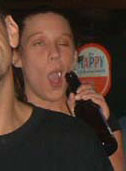 Drinking Makes Us More Attractive
During the course of the weekend we also went to a concert by the folk-rock duo Aztec Two-Step. Even the Teen was impressed with their sound, though I don't think she's going to rush out and buy any of their albums since the 1960s era hippy-trippy folksy lyrics were a bit whack for our little hip hop queen.
At this point I should probably fess up that the family made the trip to Bufu, and then east to East Bufu, so that the Idiot could stroll down memory lane at his 20th high school reunion, which is why I've cleverly cloaked the real name of the town in order that you internet freaks will not be able to learn my secret identity and the location of the Batcave.
Those of you good at math have already figured out that the fact I went to my twentieth reunion means I'm officially a card-carrying Old Fart, which is something I've been ready to face ever since some guy called me "Pops" at a concert a couple of years ago. Fittingly, next week I'll start writing a regular blog feature on regularity and other senior health issues.
The town of Bufu, the school, and most of my high school chums all look great and seem to be doing ok. I was pleased that I only put my foot in my mouth like twenty-seven times during the course of the weekend, which is not far from my norm during a regular weekend, let alone a weekend so rife with opportunities to ask questions about marriages that have gone sour, relatives that have gone crazy, and pets that have gone missing.
As my saintly mother said when I showed up, "Reunions kind of suck, don't they." Actually, it was fun and I'm glad I went. I send a shout out to any of my fellow Bufu High Alums who might be reading this, as well as a special thanks to the people who put all the effort into making the weekend so much fun.