I was wurfing
(surfing at work)
through "this day in history" today, and learned that nothing very interesting happened, unless you're totally into the fact that in 1944, Romania declared war on Germany, in 1875, Capt. Matthew Webb became the first person to swim across the English Channel, and in 1825, mighty Uruguay declared independence from Brazil.
Then I got to the birthdays, it's a rather impressive list:
Today:
Game show host Monty Hall is 84.
Actor Sean Connery is 75.
Talk show/game show host Regis Philbin is 74.
Rock singer-actor Gene Simmons is 56.
Rock singer Elvis Costello is 51.
Movie director Tim Burton is 47.
Country singer Billy Ray Cyrus is 44.
Actor Blair Underwood is 41.
Rap DJ Terminator X is 39.
Television chef Rachael Ray is 37.
Model Claudia Schiffer is 35.
Actor Kel Mitchell is 27.
There were others, and perhaps if I were either artsy or fartsy I would have heard of them. As is, I find this list to be stunning.
I mean, just Monty Hall's birthday is worthy of celebration, but you throw in Regis Philbin, Billy Ray Cyrus amd Terminator X and it should be a National Holiday. In fact, if I had done any work at work today I would feel totally cheated.
A couple of thoughts that came to me out of this extensive research:
1) So much for Astrology, eh? Born today, they are all Virgos, and their horoscope today is
Get in touch with your earthy side. Cook a great meal. Get some exercise.
Ok, Rachel Ray can cook the meal, and Claudia Schiffer can get the exercise, unless Monty Hall wants to make a deal and Regis wants to talk, then Gene and Tim can.... yeah. Born under a Bad Sign.
2) It's waaaaaaaay past time to give Sean Connery a rest as the "romantic leading man". They cast him as a love interest for Catherine Zeta Jones a few years ago and I almost barfed during the make-out scenes. I mean, it should be a crime that the incredibly babe-alicious Ms. Jones is married to an Old Fart like Michael Douglas, there's no need to make it worse by having her canoodle with Connery.
Catherine Zeta-Jones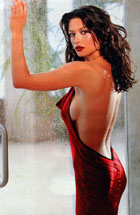 If Sean Connery did the casting,
he'll forever be my hero.
Happy Birthday all.